FAQ´s
Baby Swing
Since what age can a child use this?
---
Swings can be used by children from 4/5 months, as long as they remain seated autonomously. The child must be accompanied while using the swing. There is no age limit, as long as it does not exceed 50kg.
---
What materials are used ?
---
Th e ropes are polyester inside for added strength, and cotton on the outside. The structure is made of pine wood. The base of the swing it's composed by two layers of 100% cotton canvas, the cushion cover and the backpack are also 100% cotton canvas. The cushion is polyester, antifungal, anti-dust and antiallergic.
---
How many pounds does it hold?
---
Our swing is certified up to 50kg .
---
How can it be fixed?
---
When purchasing the swing, a fixing kit is provided, which should be placed by someone qualified to ensur e maximum safety. The swing can also be used in an exercise bar that can be purchased in any exercise shop, and it must be assembled according to the product's own rules.
---
How do you set the swing?
---
When buying the swing, instructions are given.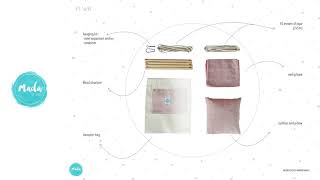 You can a lso check them here:
---
Can it be used outdoors?
---
Our swing can easily be used outdoors, provided it is placed in a sufficiently strong tree.
---
Can it be washed?
---
All parts can be cleaned, unless the wood structure. It should be washed with similar colors and inside out. Iron on reverse.
---
---